6 Resilient Residential Roofing Types -
But Which Is The Best Value?

The best residential roofing types provide homeowners with a wide variety of roofing systems and materials. However, the top 6 residential roofing materials are available with enough variety and colors that a well qualified residential roofing contractor should be able to accommodate any roofing services request.

1. Shingles roofing provides laminated asphalt roof shingles that can last anywhere from 10 years to 50 years; depending on the quality of the manufacturing process and materials used, the installation methods and practices used by the installing roofing contractor, and the number and accuracy of building-code-related roofing line items included in the course of the asphalt roofing system's installation.

Manufacturers like CertainTeed Saint-Gobain, Atlas Roofing Corporation and Tamko Building Products LLC produce residential asphalt roofing shingles.
How Does Flat Residential Roofing Compare to Residential Roof Shingles?
2. Flat roofing is a process involving the use of tar and gravel to "build up" a traditional BUR style flat roof, or, rolling out and torching down material as you go in the case of creating a modified bitumen flat roof. Other flat roofs like "rubber" roofs are available but can be more expensive and used more in commercial roofing applications than residential. Flat roofing systems can last between 15 to 25 years; depending entirely on the quality of their installation—with better workmanship installs lasting longer.

Flat roofs are susceptible to what is known as "ponding", which can make the flat roofing membrane susceptible to leaking over time (as water sits for long periods of time) and occurs when the installing contractor does a poor job of building the flat roof system to ensure that surface water dissipates quickly.

Residential Clay Tile Roofing vs Residential Concrete Tile Roofing

3. Residential clay tile roofing systems are beautiful roof products made of fine wet clay and can easily last well over 90+ years. The most important manufacturing element in clay tiles, however, is the quality of the vitrification process which is at the source of its long-lasting durability and "glass-like" finish. Roofing Contractor Magazine writes, "all-natural clay tile offers the strength and durability of real clay without the use of cement or fibers."

4.Residential concrete tile roofing, on the other hand, has a bit rougher finish as its made up of cement and sharp sand that is not as fine as clay. While both tile types will outperform most other types of roofing systems, clay tile roofs will usually last about 50% to 100% longer than there concrete counterparts because of vitrification. has a bit rougher finish as its made up of cement and sharp sand that is not as fine as clay.

NOTE: Both clay or tile roof installations require that the underlayment materials and installation process be of superior quality and superior workmanship as the underlayment is the last line of defense in water intrusion prevention over the years after rainwater runs off the tiles.

Exposed Fastener vs Standing Seam Residential Metal Roofing
5. Exposed Fastener Metal Roofing provides a metal roof solution whereby the roof metal panels are screwed onto the roof deck using exposed roof fasteners that can be seen uniformly across the entire roof after installation is complete. Exposed fastener metal roofing is widely used in commercial metal roofing as a less expensive alternative, but is used extensively in residential metal roofing when its cost is a factor when compared to its more expensive and better-looking standing seam counterpart.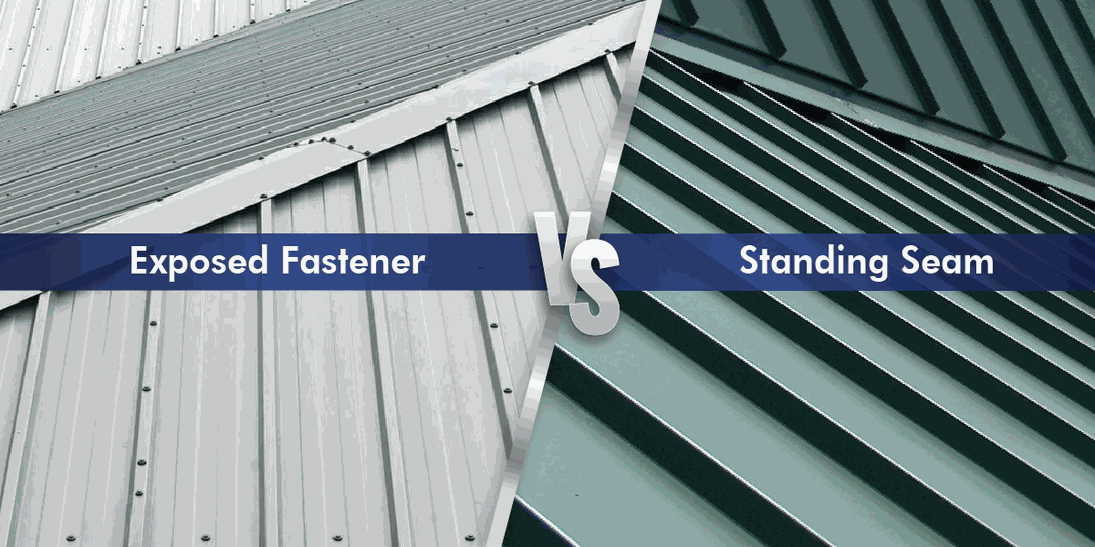 NOTE: Unlike exposed fastener metal roofing, standing seam metal roofing does require the use of a Specialized Trades type Contractor that is well experienced in metal roofing installations, due to its more intensive installation process.
Drew Calloway Departmentalizes The Company And Becomes a Specialized Trades Contractor
Calloway Roofing LLC is a Florida certified residential roofing and certified building contractor. Through its departmentalization of the company, Drew Calloway leads Calloway Roofing into specialized residential roofing systems installations that include registered roofing installations that include standing seam metal roofing and clay tile type roofing systems and more.
Calloway Roofing Installs All 6 Residential Roofing Types
Please call our office 24/7 to schedule first a full storm and roof inspection, designed to mark, note and record all the damage to the property. Then, one of our 5-months trained roof inspection specialists will sit down with you and go over the entire process and illustrate to you the written acknowledgement as discussed here for your review and satisfaction.

Thank you for visiting our website where you can also schedule a roof inspection directly with one of our inspectors now.