3 Best Types of Asphalt Shingles Available for Central Florida
Wind gusts in the Central Florida region test all roof shingles types and the very best 3 types of asphalt shingles available can endure many years of rain, wind, and punishing heat.
Asphalt shingles are significantly more affordable than other types of roofing shingles such as slate or the latest version of shingles coming in the form of Tesla Solar Roof Shingles. And the asphalt shingles available are effective nonetheless and do not require the maintenance other shingle types may require.

---
3-tab Shingles Are The Lowest Cost and Most Affordable But At a Price
With the majority of 3-tab shingles peaking at 80 mph wind resistance they are the weakest of the asphalt shingles lines but they do come as the most affordable. Specifically, and because 3 tab asphalt shingles do not have the laminate in between as architectural dimensional shingles do.

3 tab shingles Disadvantages include:

• Trapped moisture will cause decay sooner
• Shortest warranties of all asphalt shingles

3 tab shingles Advantages include:

• Lowest initial cost of material
• Easiest type of shingle to repair

Architectural Shingles aka Dimensional Shingles or Laminated Shingles

Architectural shingles are the premier types of asphalt shingles because they have a special added laminate in between each of the shingles tabs that produces much greater wind resistance and adds a bit of weight to the roofing system.

Known also as dimensional and laminated shingles because of their 3D like effect, architectural shingles can hide imperfections on a roof much better than the smooth lines of 3 tab shingles can. And because of their weight being almost twice as thick as 3-tab shingles, dimensional shingles are much less vulnerable to curling and a top shelf aesthetic appeal.

Architectural Shingles - The Best Roof Shingles

Because of their weight and aesthetics and algae resistant warranties; architectural asphalt shingles are by far the best roof shingles while also being the least expensive from the other types of roofing systems available.

Fiberglass Asphalt Shingles Have a Hidden Secret in Hail Storms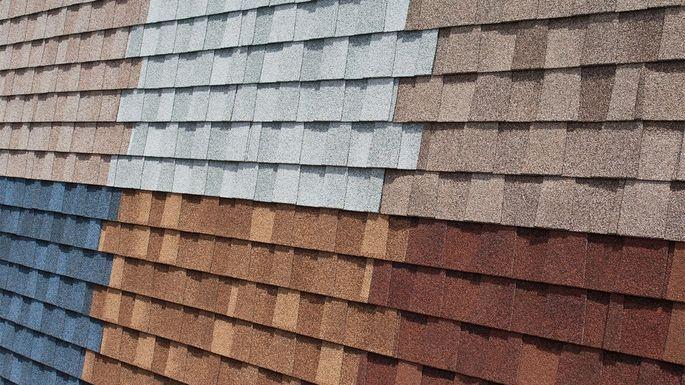 Fiberglass shingles are still a type of asphalt shingle however the mat is made from fiberglass as opposed to standard asphalt shingles in which the mat is made of special papers and wood product.
And while fiberglass shingles can last longer than standard asphalt shingles, they tend to make it difficult to detect and distinguish hail pock marks on them as the impacts from hail make it look more like the granules are simply falling off as a type of manufacturer defect.

CertainTeed Shingles the "Cadillac" of Asphalt Roofing Shingles
​Asphalt shingles are manufactured by many roofing materials companies including Atlas, Owens Corning, Iko, Tamko and more. However, the premier brand for architectural dimensional shingles continues to be the CertainTeed brand shingles line. That is because CertainTeed Roofing Shingles contain more asphalt than most other brands. This added weight can translate into better durability and more importantly, impact resistance which matters a lot in hailstorm damage.
It is generally agreed that CertainTeed's shingle quality is at or near the top of all fiberglass (fiberglass-reinforced mat that serves as a base for asphalt composition shingle) shingle brands. Roofingcalc.com


Discontinued, "Outlet" and Other Cheap Shingles

When shingles manufacturing processes detect defects or problems they discontinue a bad run of shingles production. However, that doesn't stop them from re-appearing in the "supply chain" as outlet shingles or other creative names they go by. Therein, use a reputable roofing contractor to ensure that your shingles are part of a registered roof installation.
Calloway Roofing LLC - Orlando Florida
Please call our office 24/7 to schedule first a full storm and roof inspection, designed to mark, note and record all the damage to the property. Then, one of our 5-months trained roof inspection specialists will sit down with you and go over the entire process and illustrate to you the written acknowledgement as discussed here for your review and satisfaction.
Thank you for visiting our website where you can also schedule a roof inspection directly with one of our inspectors now.